A few times a month we have new arrivals! We can't wait to show you all what's in-store for So You Shoes and each time we get some new arrivals we love our shoes even more! We thought we'd show you our favourite shoes online right now and how you can wear them!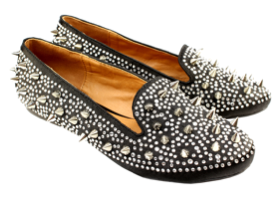 Flat Diamante Spike Shoes - £30
We know spikes and studs are massive trends right now! And aren't these spiked flats absolutely gorgeous? They would look perfect with a white blouse and jeans to make your outfit that little bit extra stylish! They'd also look great as a fab alternative to heels on a night out!


American Flag T-Bar High Heel Shoes - £35
American print shoes are a massive shoe trend right now and we've just got these gorgeous t-bar heels in stock! They would look amazing with a simple LBD or with jeans for an evening look or any plain coloured dress! We think they'd look just as gorgeous with shorts and a nice top for a night out too!


Pink High Heel Suede Platform Shoes - £35
A pair of pink heels is an essential to every girl's wardrobe! They will last you forever and you'll wear them year after year for those special occasions/parties. We love the peep toe on these shoes and we love them in other colours too! These pink heels would look fab with any party outfit!

What do you think of these shoes? Which shoes are your favourite?

x