Creepers are one of the biggest shoe trends this season. They are cool, current and they certainly make a statement and there shoes are surprisingly very versatile too.
Originally creepers were seen on the feet of Teddy Boys, the Brothel Creeper has been reinvented for the 21st century.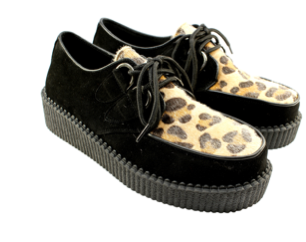 We love these Leopard print creepers! We'll be wearing our pair with a pair of skinny jeans and some cute ankle socks!


Red creepers are perfect for someone who wants to be trendy but stands out from the crowd! We're going to be wearing ours with opaque tights and denim shorts for a perfect day-wear look!


Black Creepers are so versatile and easy to wear. They look great with skinny jeans and ankle socks, opaque black tights & shorts and again with opaque black tights and skirts/dresses! They are the must have shoe and the must have colour for any fashionable woman this month!

What do you think of creepers? Will you be wearing them? If so how would you wear them?

x